The Best Regional Banknote Awards have been presented this week at the High Security Printing EMEA conference, with Armenia and Kyrgyzstan announced as the winners.
Reconnaissance International revealed the winners of the Best Regional Banknote Awards at its HSP EMEA conference held in Warsaw, Poland. According to Reconnaissance, the Best Regional Banknote award recognises
"…outstanding achievement in the design, technical sophistication and security of a banknote or banknote series, the key judging criteria being that successful banknotes should combine visual artistry and high levels of technical and security sophistication, with considerable emphasis placed on reflecting the cultural heritage of the issuing country in the note, and the relevance of the overall design and symbolism to the issuing country."
Best Regional Banknote award: Armenia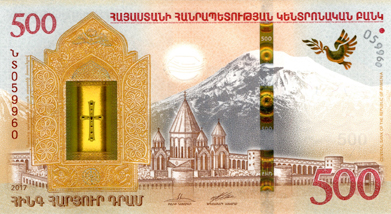 Armenia's 500-dram commemorative banknote issued in November 2017 was a winner of the award, due to its "combination of the highest level of security and outstanding design techniques". With a design theme of the biblical story of Noah's Ark, the banknote's security features include RollingStar® LEAD foil and Galaxy® micro-mirror 3D effect thread, both by Louisenthal. It is the first time either of these security features have been used in a banknote.
The banknote is printed on Louisenthal's Hybrid® paper-polymer combination substrate, and includes SICPA's optically variable ink SPARK® Live Truspin feature.
Best Regional Banknote award: Kyrgyz Republic
The 2,000-som commemorative banknote, also issued in November 2017, celebrates the 25th anniversary of independence and the establishment of its national currency. The banknote, designed by the Central Bank's banknote designer Murat Sagimbaev, contains elements detailing both the Kyrgyz people and nature.
The note includes Crane Currency's MOTION® SURFACE™ foil stripe, an evolution of the company's MOTION® micro-lens thread technology. Kurz's KINEGRAM COLOR® holographic patch is also included, changing from the numerals "25" to the Kyrgyz national pattern.
Read the press release from Reconnaissance International.