As part of its program to upgrade its family of banknotes, the Central Bank of Hungary has begun circulating a new upgraded 1,000 forint banknote.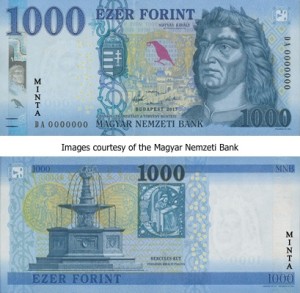 The Magyar Nemzeti Bank (MNB) issued a statement in August last year confirming the issue of the new note which contains new design elements and security features.
Whilst the new note became legal tender on the 24 August 2017, it  enters circulation today, the 1 March 2018. It will circulate alongside its predecessor, first circulated in 2006, for a period of six months before it is withdrawn on 1 October 2018. Says the Bank, this will provide sufficient time for stakeholders of the currency supply chain to obtain technical assistance if required.
The 1,000 forint denomination, worth around US $3.90, is the second lowest in the banknote family, also consisting of the HUF 500, 2,000, 5,000, 10,000 and 20,000.
Key features of the new note
The new banknote continues to use a predominantly blue colour scheme, and keeps the same size dimensions of 154mm by 70mm. The design also continues to use a portrait of King Matthias Corvinus on the obverse, and an image of the Hercules Fountain on its reverse.
On the note's obverse, a new holographic foil stripe can be seen on the far left. Optically variable colour changing ink is used to portray an image of a bird, changing from purple to green as the banknote is tilted. Numerals displaying the denomination value are shown in clear, large letters at the top left of the note, and two horizontal tactile lines are shown at the bottom left of the note to assist those with visual impairments to identify the note's value.
The reverse of the note is very similar to its predecessor, but also includes a hidden latent image of the Bank's initials and an iridescent ink stripe.
Other features include an embedded security thread, see through register pattern, watermark and microtext. The note has several Level 2 security features including those visible under ultraviolet A and C light.
To see more information regarding the new 1,000 forint banknote, read the press release from the Hungarian Central Bank (MNB).
Related articles
Hungary upgrades 1,000 forint banknote
Hungary upgrades 2000 and 5000 banknotes