The Central Bank of the Philippines has today issued upgraded banknotes of the New Generation Currency series containing new design elements.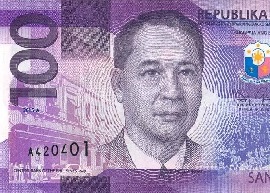 A press release issued by the Central Bank of the Philippines states that the new notes with "enhanced design" have been circulated in accordance with its mandate to preserve the integrity of the Philippine currency.
The design changes to the banknotes' designs consist of
1,000-piso: Removal of the image of the Order of Lakandula Medal and the phrase "MEDAL OF HONOR" in the obverse side of the banknote
200-piso: the obverse now contains images depicting the Declaration of Philippine Independence and Opening of the Malolos Congress
50-piso: Addendum in the text "Leyte Landing" to "Leyte Landing October 1944"
20, 50, 100, 200, 500, and 1000-Piso: Updated formatting of scientific names and increased font size of the notes' year mark.
All denominations will contain the signature of the Central Bank's Fourth Governor, Nestor A. Espenilla, Jr.
Read the Central Bank press release
Related links: