The Reserve Bank of Australia has begun to circulate the new $10 banknote, the second of the Bank's Next Generation banknote family.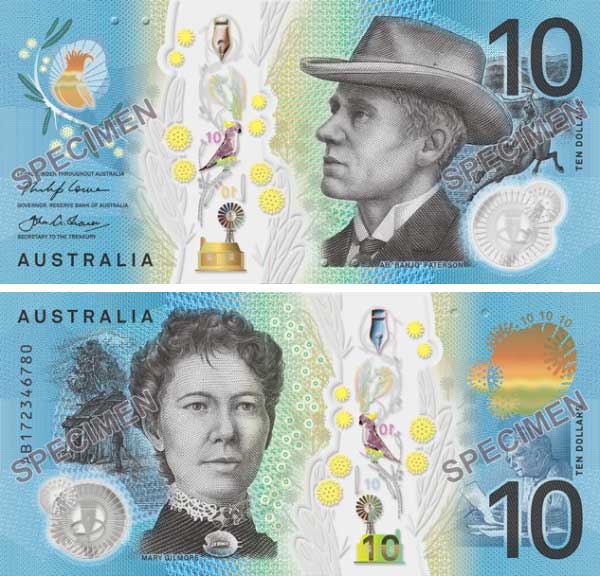 The design of the new $10 banknote continues to feature illustrations of Australian writer and journalist Dame Mary Gilmore, and Australian bush poet, journalist and author AB 'Banjo' Paterson.
The new note also retains the same size dimensions as its predecessor, and continues to use a predominantly blue colour scheme.
Like the recently issued $5, the $10 note is printed on CCL Secure's Guardian™ polymer substrate and includes a variety of security features including:
KINEGRAM® ZERO.ZERO foil stripe by KURZ, applied over a top-to-bottom clear window
a colour changing ink feature, used to illustrate the native Sulphur-crested Cockatoo bird
a tactile feature consisting of raised bumps, to assist those with visual impairments to identify the note's denomination
Other security features include raised intaglio ink, microtext and patterns visible under ultraviolet light.
The new $10 banknote will be the first to include the signature of Governor Philip Lowe. Speaking of the new note the day before its release, he said:
"The launch of the new $10 banknote is a milestone in our program to deliver Australians banknotes at the cutting edge in terms of security against counterfeiting. I am pleased that from tomorrow people will start to see the new $10 entering their wallets and pockets, and that it continues the tradition of celebrating two of Australia's most prominent writers."
The new $10 will co-circulate alongside its predecessor until further notice.
Watch the education video of the new $10 banknote from the Reserve Bank of Australia
For further information about the new $10 banknote, go to the Reserve Bank's website.
The next banknote in the Next Generation banknote series to be issued is the $50, expected late 2018.
Related articles
Australia announces September issue date for new $10
Australia reveals design of new $10 banknote
Australian $5 wins Regional Banknote of the Year award