On 1 July 2017, the Central Bank of Trinidad & Tobago began re-issuing new 5, 10 and 25 cent coins having changed their metal composition, and it has also dropped the 1 cent coin.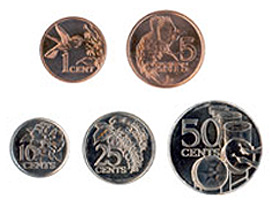 The new coins are manufactured using more cost effective metals to help make savings for the Central Bank of Trinidad & Tobago, estimated to be around TT$15 million (US $2.2) in minting costs.
Each coin has a 90% steel core with an overlay of up to 10% nickel and copper. They will still look and feel the same as the previous design coins, but will have a new minting date of 2017.
The Central Bank has also demonetised the 1 cent coin as part of its cost-saving efforts. It mints on average 45 million 1 cent coin pieces each year, with each coin costing 21 cents to produce. Those coins currently circulating will remain legal tender until further notice from the Central Bank, but it says it expects to have demonetised the coin by 1 July 2018
As part of the process, the bank has provided the public with cash rounding guidelines.
All imagery courtesy of the Central Bank of Trinidad & Tobago.