South Africa will soon be celebrating Nelson Mandela's birth centenary with the launch of a commemorative set of banknotes and a new five rand circulation coin.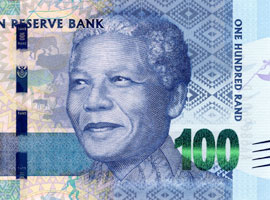 According to the South African Reserve (SARB), the country's Central Bank, the commemorative banknotes will be launched this year in denominations of R10, R20, R50, R100 and R200. Though they are a commemorative family, the Central Bank has confirmed they will be circulated alongside the existing Mandela banknote series that was first issued in 2012.
The R5 coin is being produced by the South African Mint, a subsidiary of SARB.
Both banknotes and coin are expected to begin circulating on 18 July 2018 – Mandela's birth date. Further details will be provided by SARB nearer this time.
Speaking of the commemorative currency, SARB's Governor Lesetja Kganyago said:
"Nelson Mandela represented the best version of ourselves as South Africans. We unveiled the current Mandela series of banknotes in 2012 to honour him. While preserving the value of money is our main mandate, our purpose is to be a bastion of institutional strength, contributing to a stable and prosperous economy that serves the well-being of all South Africans, and guided in part by Madiba's values,"
Read the SARB press release