The International Currency Association (ICA) has appointed Wolfram Seidemann of Giesecke&Devrient Currency Technology as its new Chairman.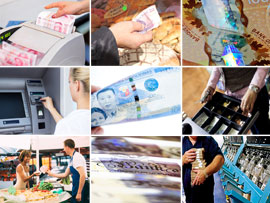 The previous Chairman, Barna Barabas of JURA, stepped down from the position but remains a Board member.
The ICA, founded in 2016, states it is "a voice for cash, promoting its continuing role as part of diverse, open and inclusive payments eco-system".
Three new Board members have also been elected, namely Phil Holland of Komori Corporation, Malcom McDowell of Note Printing Australia and Jean-Yves Ray of SICPA. Other Board members include Martin Sutherland of De La Rue and Dieter Merkle of Schuler.
Speaking of his new appointment, Wolfram Seidermann said:
"Thank you to all members for this mandate and I am very committed to drive forward the objectives of the ICA and its initiatives. The Association has a great agenda to create value for all its members, and I am very happy to help move that forward. There is a great team and excellent support from all members of the ICA to make this a success. I have to thank Barna for his hard work over the last 12 months and look forward to building on his work and that of the members."
Read the full press release from the ICA.