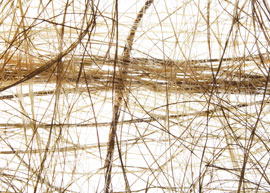 Ukraine's Central Bank, the National Bank of Ukraine, has manufactured its first batch of banknote paper using linen fibres.
A press release issued by the Bank on 23 March 2016 details how Ukrainian banknote paper manufacturers have been investigating the possibility of manufacturing banknote paper by mixing traditional cotton fibres with other plant fibres, such as linen.
"With all other conditions being equal, the cost of domestically produced linen fibers is markedly lower than that of imported cotton fibers, which is a scarce commodity. Using linen fibers will enable us to cut production costs related to supplying the economy with the required amount of banknotes, support domestic agricultural producers, and create more jobs." said Mr Yakiv Smolii, Deputy Governor, National Bank of Ukraine.
Linen fibres are reportedly much stronger than cotton fibres, which increases the durability and subsequent lifetime of a banknote in circulation.
The concept of using alternative fibres to cotton within banknote paper is not unique, with some countries using paddy straw or abaca fibres (known as Manila hemp) within their paper banknote substrates. Linen fibres have long been used in the production of US banknotes (known locally as dollar bills).
Read the full press release from the National Bank of Ukraine.