The European Central Bank (ECB) has today issued the new euro 20 banknote, the latest in the second series of euro banknotes, named "Europa".
The paper banknote, which is mainly blue in colour, consists of new and up-to-date security features to help combat the use of counterfeit banknotes, including tactile features for the visually impaired, a watermark and holographic stripe of the portrait of Europa (a figure from Greek mythology), an "innovative" portrait window which becomes visible from both sides of the note when held to the light, and SICPA's SPARK Origins optically variable ink used for the denomination 20.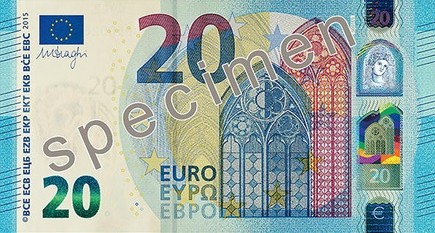 More than 4.3 billion of the new banknotes have been printed in preparation for its release into circulation, which, says the ECB, will gradually become available from ATMs, banks and shops, whilst the previous 2002 €20 banknote design will continue to circulate until further notice.
The €20 denomination follows the release of the Europa €5 and €10 banknotes, issued in 2013 and 2014 respectively.
To read further information about the new note, click here to go to the ECB website.