A press release from the Colombian Central Bank, the Banco De La República, has confirmed that a new 100,000 peso banknote was introduced on the 31 March 2016.
The note is the first of a new series of banknotes issued by the Central Bank, and is an additional denomination to the previous banknote series which consisted of 1,000, 2,000, 5,000, 10,000, 20,000 and 50,000 peso denominations.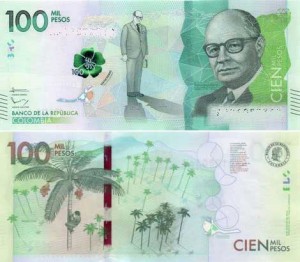 The 100,000 peso note is predominantly green and its dimensions are 66mm by 153mm. The banknote design includes:
a portrait and watermark of President Carlos Lleras Restrepo
printed wax palms (the national tree) and Luis Vidales's poem about wax palm
the Barranquero (burrowing) bird as a see through image
a flower design incorporating De La Rue's SPARK® Orbital™ security feature

Correction, 21 April 2016: The flower feature is in fact one by SICPA using it's SPARK® Live ink.

a colour changing windowed security thread
raised tactile lines and circles to assist those with visual impairments to distinguish the denomination
a latent image of letters BRC
UV patterns and security fibres
Microtext
To see the banknote and learn about its features watch the educational video provided by the Banco De La República.
To see the Bank's press release click here.