First Trust Bank, one of Northern Ireland's four note issuing authorities, has announced that it will cease issuing its own banknotes due to the increasing use of digital payments.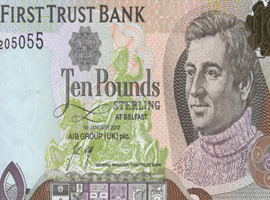 First Trust Bank (FTB), a subsidiary of Allied Irish Banks, will gradually withdraw their banknotes from circulation and will instead dispense Bank of England banknotes through their ATM network.
FTB notes will stop being classed as legal tender from midnight on the 30th June 2020.
After this date, people can exchange their FTB banknotes for equivalent sterling value at any FTB bank branch or Post Office.
According to FTB, a commercial decision was made to cease issuing FTB banknotes which took into account the increasing use of digital payments and mobile technology.
It says it will continue to fully supply its customers with sufficient quantities of banknotes, but they will be either Bank of England notes or from any of the other note issuing banks in Northern Ireland and Scotland.
Speaking of the changes, Adrian Moynihan, Head of First Trust Bank, said:
"First Trust Bank's banknotes account for 11% of notes in circulation in Northern Ireland and 0.4% of notes in circulation across the UK (as of 31.12.18). For most people this decision means they should begin receiving Bank of England banknotes instead of First Trust Bank banknotes from our ATM network."

"First Trust Bank remains fully committed to Northern Ireland and supporting our customers by offering digitally-enabled personal products and services, business banking with a local market presence and a mortgage proposition to intermediary and direct markets. Over the last year we have invested £10m in transforming our business and we continue to invest in our products and services, including ongoing digital investment."
Read the public announcement from First Trust Bank