The 50 boliviano banknote has been upgraded by the Banco Central de Bolivia, the country's central bank.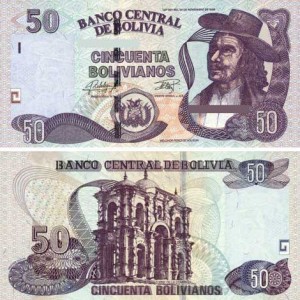 The latest upgrade of the boliviano banknote is part of the new "J" series of banknotes from Bolivia. The 50 boliviano banknote was first issued in 1987 and was last upgraded in 2005.
The upgraded paper banknote includes a 3mm wide colour shifting windowed security thread which changes from magenta to green when tilted. It also includes the central bank's acronym "BCB 50″ as demetallised  text.
The thread also includes anti-counterfeit level 2 ultraviolet (UV) properties, visible on both sides of the note.
According to the Bolivian central bank, the remaining denominations of the upgraded J series will  become available in the "next few months". Notes of the previous series will continue to circulate and remain legal tender.
Related Links