On November 15th, 2013, the Bank of Guyana unveiled the new £5,000 banknote. This is an additional denomination to the current series existing of the £20, £100, £500 amd £1,000.
It is due to go into circulation on December 9th, 2013.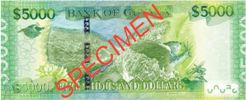 The face of the banknote displays a map of the country with its natural resources, the revere portrays the Guyana's national bird (the Hoatzin/Canje Pheasant) and the rainforest.
The note is 156mm x 65mm and includes the following security features:
SPARK – £5000 denomination, changes from magenta to green
Watermark – "5000" and a macaw
See-through – when held to the light the value 5000 is visable
Dual Track – 2 track thread with optically variable and metallic print properties
Tactile mark – to enable the visually impaired to identify the denomination
Holographic stripe – when tilted a jaguar is visable
Latent image – when tilted the value 5000 is visable
Source: Bank of Guyana