There have been several reports in the global media regarding an increase of counterfeit banknotes in Australia.
The sources relate to the Reserve Bank of Australia's Annual Report which identified a 63% increase in counterfeit banknotes withdrawn from circulation during the 2014/15 period. This equated to 37,000 notes with a nominal value of $2.0 million, which is approximately 28 counterfeit banknotes for every million genuine notes.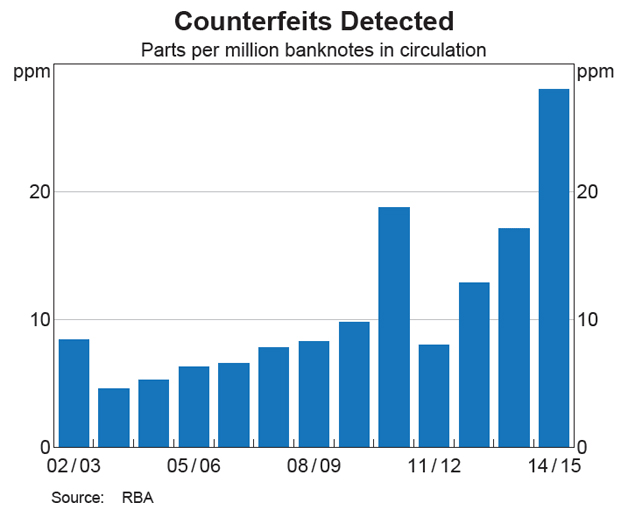 The Central Bank has identified the cause of the increase in counterfeit notes which, it says, was due to a single production source.
"Some arrests have been made in relation to this production source, and the police are continuing to investigate the matter."
The Bank advises that the level of counterfeits remains low.
The current series of Australian banknotes has been in circulation for the past 20 years, though there will inevitably have been various security upgrades made to the banknotes during this time.
In 2012 the Bank announced the "Next Generation Banknote (NGB) project" whereby a new banknote series with upgraded security features will be released into circulation. The Bank will stagger the release of the new banknotes during the next few years, but has confirmed that the first two denominations, the $5 and $10, will be issued in 2016/17.