Fifty years ago today, the world's first cash machine was installed at a Barclays Bank branch in Enfield, London. The machine was invented by John Shepherd-Barron and his team at De La Rue Instruments Ltd.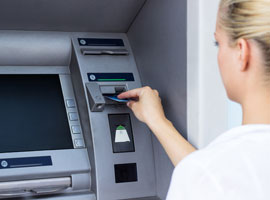 The new machine, or Automated Teller Machine (ATM), allowed customers to withdraw ten £1 banknotes using a special voucher that was issued by the bank. The voucher, similar in style to a cheque, was impregnated with carbon 14, a mildly radioactive substance.
The voucher was replaced in the 1970's with a plastic withdrawal card that required a four-digit authentication PIN-code to be entered by the customer, the format still in use today.
Since then, the ATM popularity exploded and there are currently more than 3 million installed worldwide according to the ATM Industry Association (ATMIA).
The ATM's function has continually evolved, particularly during the last ten years. Customers can now use their smartphone instead of their payment card to access their account, they can speak to bank staff via a video link at the ATM, and they can even sign up for a new bank account by using the ATM's touchscreen.
Speaking of the ATM's 50th anniversary, Bank of England Chief Cashier Victoria Cleland said that 94% of UK adults use cash machines of which more than half use an ATM at least once a week, even though the use of notes and coins in transactions is falling. As such, the Bank of England is keeping cash in its future plans.