The Bank of Thailand has issued a 500-Baht commemorative banknote, celebrating the 7th cycle birthday anniversary of Thailand's Queen Sirikit on 12 August 2016.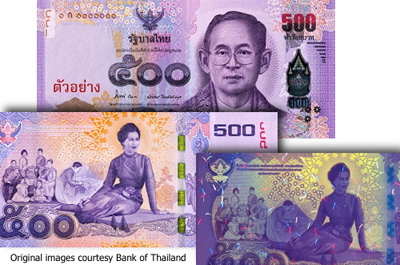 The banknote was unveiled by Mr Veerathai Santiprabhob, the Governor of the country's central bank.
The front of the commemorative banknote remains the same as the currently circulating denomination, but the reverse design depicts a portrait of Queen Sirikit in Thai Boromphiman costume.
Notably, the commemorative banknote features a radial pattern behind the Queen's portrait which illuminates when viewed under ultraviolet light.
The banknotes were issued on the 11 August, a day before the Queen's actual birthday. The Bank of Thailand issued 20 million of the banknotes.
According to the country's central bank, people can obtain the commemorative banknotes from any commercial bank, Government Savings Bank, the Bank of Agriculture and Agricultural Cooperatives, the Government Housing Bank, the Islamic Bank of Thailand, and designated ATMs.
To see the full press release from the central bank, click here.