The Central Bank of Armenia has announced that they will be changing the denomination structure of their next 3rd Generation Banknote series, with the addition of a lower value banknote and removal of the highest value note.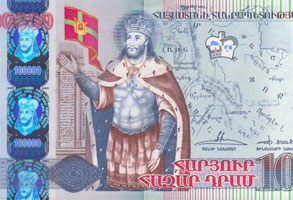 Citing an increased use in cashless payments within the country, the Central Bank has confirmed that the 100,000 dram (US $209) banknote, last issued in 2009 and currently the highest value circulating Armenian banknote, will not be reissued in the 3rd Generation Banknote series expected to be issued next year.
A decision has also been made to introduce a new lower value 2,000 dram (US $4) banknote, which joins existing denominations of 1,000, 5,000, 10,000, 20,000 and 50,000 dram notes.
The technical and security features of the new banknote series were approved by the Central Bank back in June 2011. Instead of traditional cotton paper substrate, as used in previous Armenian banknote series, the upcoming notes will use a composite substrate. The Central Bank advises that this choice will enable additional security features to be included in the design of the new banknotes as well as increase their durability, helping to minimise the cost of banknote production.
According to a press release, an open tender will be announced by the Central Bank of Armenia (CBA) to determine the design illustrations of the 3rd Generation Banknotes, details will be available from the official CBA website.
Source: Central Bank of Armenia